[

01

/ 06 ]
BOUTIQUE WEDDINGS
CONTACT US
We love collaborating with couples to create an experiences where every little detail is beautifully presented.
Whether your dream is country chic, a boathouse by the water's edge, a rustic barn conversion or industrial meets inner city elegance, we are ready to take the journey with you.
[

02

/ 06 ]
MARQUEE WEDDINGS
CONTACT US
From unique locations to private estates across the country, our team of dedicated event managers and wedding stylists are there throughout the journey.
[

03

/ 06 ]
CONTACT US
We have some of the most beautiful dining ware, styling components and Riedel glassware taking our presentation to the next level.
We are here to help you with as little or as much as you require, so please feel free to contact us to discuss the possibilities.
EVENT STYLING
[

04

/ 06 ]
INNOVATIVE FOOD
Your menu can help shape the formality and flow of the day, so think about the journey and experience for your guests.
The possibilities are endless from generously styled table banquets to cocktails and canapes under the stars. You can have interactive food stations where guests can engage with the chefs or all of the above.
[

05

/ 06 ]
WEDDING GALLERY
[

06

/ 06 ]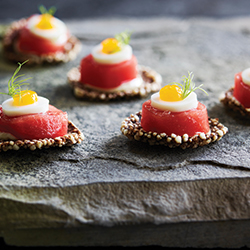 VENUES

EVENT SHOWCASE
WHAT WE DO
FOOD

WEDDINGS

CONTACT